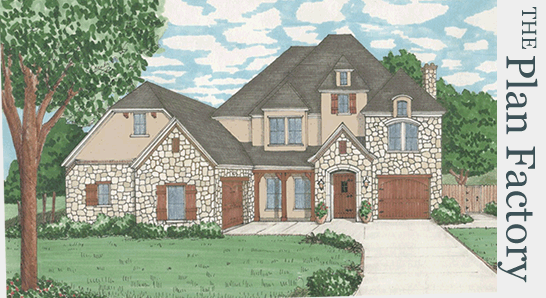 Custom Home Plans
Our team of dedicated professionals incorporate your needs, tastes, and budget in you new home design.

Stock Home Plans
Thousands of stock plans to browse on-line are for sale as is, or we will cutomize for your home.

MyPlanFactory
Portal for our Custom Design Clients to communicate with their designer and the Plan Factory Team.

Forms, Requests
You may submit Site Plan Requests, Engineer Request Form, and IC3 Requests here.

Additions, Remodels
The Plan Factory offers complete remodel and room addition services to improve your home design.

Featured Stock Plans
A selection of our favorites from the thousands of stock plans available to purchase from the Plan Factory.

Photo Gallery
Photographs of many of the homes build from our stock or custom plans. Picture your dream home.
Home & Floor Plans
We offer our stock home plans for sale as is, or our professional staff will customize the plans for your needs. We also design custom homes for individuals our home builders. Contact the Plan Factory today and turn your dreams into reality.
Featured Stock Plans
Stock Plans from Our Large Collection
The Plan Factory
4307 South Bowen Rd. Ste. 133
Arlington, TX 76016
817-654-9012